Ferry from Heraklion to Mykonos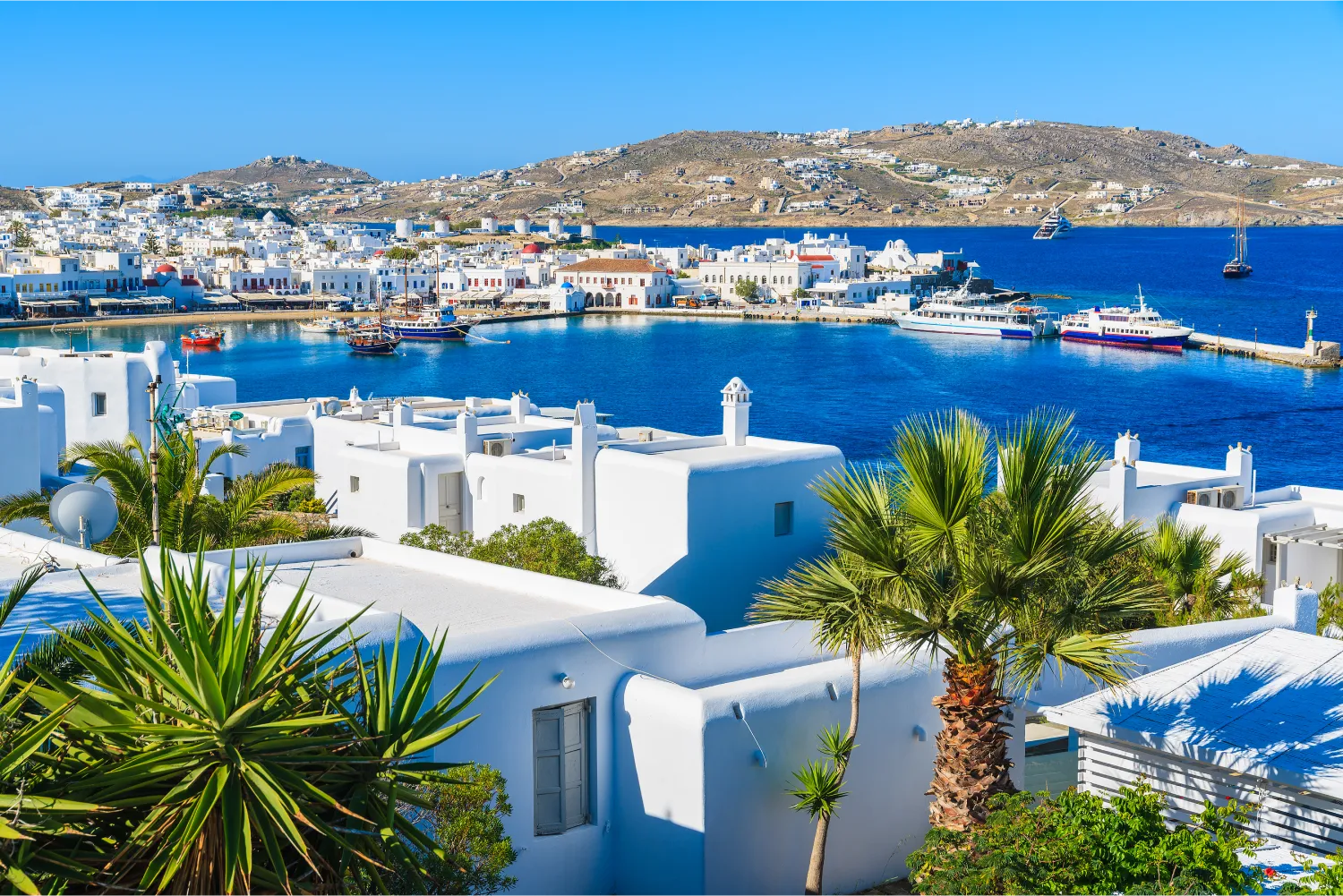 How to take the ferry from Heraklion to Mykonos, Ports description and recommendations for local public transportation services. Explore the website and find all necessary details for the ride from Crete to Cyclades islands; Schedules and prices, Accommodation options with real-time Availability, and helpful tips for transfer opportunities in Heraklion and Mykonos!
How to get from Heraklion to Mykonos by ferry
Find here useful information on how to get from Heraklion to Mykonos by ferry, how to get to the port of departure with the local transport network, timetables and prices for the ferry tickets and available accommodation options for the route Heraklion to Mykonos.
The itinerary from Heraklion to Mykonos is the best choice you have and it can be a very nice and exciting experience especially if there are intermediate stops on another island. Greek islanders are seasoned ferry experts and they prefer to travel by boat because of the convenience and flexibility it offers!
There is a selection of conventional ferries running frequently from Heraklion to Mykonos with stops along the way. Cars are allowed on most ferries from Crete to the Cyclades at an additional fee and children usually travel at half price!
Enter a date and click on "search" to view updated timetables for the route from Heraklion to Mykonos!
Note: Each year and depending on the season, there may be more or fewer connections from Heraklion to Mykonos. The biggest shipping companies (ferry operators) announce the new schedules by the end of December and the rest by January-March!
Ground services in Heraklion and Mykonos
Please visit Heraklion , Mykonos and find useful suggestions on how to reach the ports, tips for ground services and public transportation options by arriving in with the ferry.
Schedules & prices Heraklion-Mykonos
With the developed "Easy-Way" system of go-Ferry.com, you can make the most reliable and flexible online booking of your ferry ticket!
We will connect you to the booking systems of most ferry operators and will show you:
Direct itineraries with schedules Heraklion to Mykonos
Alternative routes from Heraklion to Mykonos
Ferry prices Heraklion to Mykonos
Prices for Adults, children, and babies
Prices for all vehicle sizes
Trailer prices
Ticket offers
Early booking discount
With all these options we offer, you can be sure that you will find the best deal for the ticket from Heraklion to Mykonos at a price that will suit your budget.
Select only the date and click on "search". Your journey Heraklion to Mykonos has begun!
Ferry tickets Heraklion to Mykonos
Book in advance your ferry ticket from Heraklion to Mykonos
If your final destination is Mykonos do not neglect to book your ferry tickets early enough to avoid last-minute surprises! We are sure that you do not want to ruin your vacation or change your route because you will not find an itinerary available. How could you feel to be at the departure port and not be able to board the ferry from Heraklion to Mykonos because it is fully booked?
On the next page, we will mention some reasons that make it necessary to book in advance your ferry from Heraklion to Mykonos!
There are many reasons why you should book your ferry ticket in advance. Here are some of the most important ones:
Hotels
During the peak seasons in Greece and other popular European destinations, such as July, August, Easter, Christmas, Holy Spirit, etc., it is highly likely that ferry tickets will be sold out if not booked in advance. Therefore, it is crucial to avoid the mistake of reserving a hotel stay without securing your ferry ticket. The last thing anyone wants is to arrive at the port only to discover that there are no available tickets for their desired destination. To ensure a smooth and hassle-free travel experience, it is strongly recommended to make ferry ticket reservations ahead of time, especially during high season. By doing so, you can guarantee your spot and enjoy your vacation without any last-minute complications.
Save time
We do apply a commission for ferry ticket sales, however, this is for your benefit as it guarantees your tickets and saves you valuable time. Additionally, we take pride in providing first-rate service and attention to all our customers.
Wider choice of fares & onboard accommodation options
Purchasing ferry tickets in advance offers several advantages, including a greater variety of departure times, a wider selection of ships, and the ability to choose from various onboard accommodation options . By securing your tickets ahead of time, you can ensure a seamless and uninterrupted vacation experience. There is no need to risk any inconvenience or compromise on your desired travel plans due to a lack of available ferry tickets. This situation has unfortunately occurred to numerous travelers in the past. Therefore, it is highly recommended to plan ahead and secure your ferry tickets in advance to enjoy a stress-free and enjoyable journey.
Make the perfect connection
In order to effectively plan your vacation, it is recommended that you thoroughly examine all ferry schedules that are available to you. This will allow you to find the optimal combination of air travel and ferry trips that suits your needs. By selecting the appropriate combinations, you will be able to save both money and time during your vacation.
Get the best deal
When it comes to booking ferry tickets, it's important to keep in mind that prices tend to increase as the departure date approaches. To ensure that you get the best deal possible, it's recommended that you take advantage of special fares and deep discounts that are often available when tickets are booked well in advance.
Many operators offer these types of deals for customers who book their tickets at least 3 to 6 months ahead of time. By doing so, you can save a significant amount of money and avoid the stress of last-minute price increases.
So if you're planning a ferry trip in the near future, be sure to check with your operator to see if any special fares or discounts are available. Don't miss out on the opportunity to save money and make your trip as smooth and stress-free as possible.
A great feeling to have the ferry tickets in your pocket
When you have the tickets in your possession, it will bring you immense satisfaction. By reserving your tickets through go-ferry.com, you can ensure that you have secured your tickets for your desired destination. Having the confirmation either physically in your hands or on your smartphone will bring you a sense of relief.
Accommodation on the ferry from Heraklion to Mykonos
Everything you need to know about ferry types and accommodation options; reserve the ideal accommodation on the ferry from Heraklion to Mykonos and get fresh and relaxed at your destination! Comfortable armchairs, business class comfort seats or economy deck chairs. There is a range of accommodation options to choose for a day or night ferry from Heraklion to Mykonos.
Looking for travel ideas?
Select from map